Photographing Babies
Ring in the New Year with beautiful baby pictures! The following excerpt from Chapter 8 in my latest book, Portrait and Candid Photography 2nd Edition, will help you create images that are treasured forever.
GET COMFORTABLE WITH THE BABY
The term "comfort" is subjective for many adults, but for babies there is a special formula to ensure their comfort. If you intend to shoot for more than 30 seconds and capture happy, spontaneous expressions, these guidelines should help.
Plan the timing
One way to photograph babies is to make sure they are already rested, fed, and changed before your photo shoot; then position them in the area you've prepared for the photo session. Another way is to follow the action in a photojournalistic manner and record moments during a baby's daily rituals. Either way, you need to adjust your photo shoot around the baby's schedule. Every infant has a ritual of eating, sleeping, bathing, and changing with some crying, bonding, and play intertwined. If you're the parent, by now you know your child's optimum times for interacting. If you're photographing someone else's baby and don't have all day to follow the action, be sure to communicate with the parents about the baby's schedule. Ask them when the child seems most engaged — some babies are more alert in the morning, while others seem more animated in the afternoon. Ciaran, perched on his father's shoulder, had just finished a nap and was giggling at my assistant's funny faces when I captured the shot in 8-1.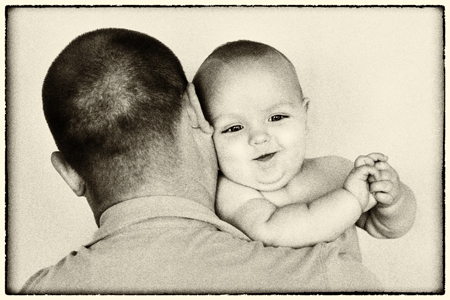 8.1
ABOUT THIS PHOTO Ciaran faces indirect window light as he looks over his father's shoulder. The sepia image and sloppy border effect was created with Silver Efex Pro™ 2 – Nik Software. Taken at ISO 400, f/2.8, 1/160 sec. with a Canon EF 85mm f/1.8 lens.
Create the right environment
If you show up with a camera and abruptly start shooting pictures, you run the risk of upsetting the baby and missing out on those special moments you intended to photograph. If you aren't familiar with the baby, take the time to slowly introduce yourself with smiles and coos, get down on the baby's level, and say hello. If you plan on getting in close for upcoming baby shots, it's a good idea to introduce your camera, too.
My photo shoot with 7-month old Lily and her family began inside my house, as we looked over clothing, smoothed over hair, and prepared to go outside. This gave me time to meet, coo, and play with Lily a little bit before the shoot. In 8-2, Lily and her mother shared an embrace at the beach while I captured the candid moments.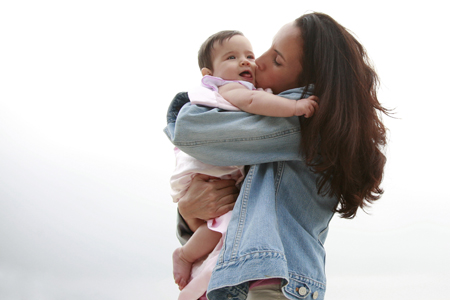 8.2
ABOUT THIS PHOTO The weather was temperate at the beach, and 7-month year old Lily had on a sweet little dress, but her mother brought along a warm blanket too. Taken at ISO 320, f/4.0, 1/250 sec. with a Canon EF 24-105mm f/4L IS lens.
When babies feel comfortable with your presence and your camera, they soon forget the camera and this can lead to capturing many memorable pictures.
Just like Baby Bear's porridge, the temperature must be "just right" for the baby, which means it errs on the warm side. If you are inside, make sure the shooting environment is cozy and quiet. Music can also influence the ambiance. Newborn babies are soothed by soft music and are startled and frightened by loud, unexpected noises. For a more active photography session, older babies through toddlers can be energized by rhythmic dance music.
You might be short on time or frustrated with your equipment, the light, or other people in the room, but do not allow this stress to enter into the shoot. Babies and toddlers are human sponges, picking up all the emotions and tension in the room. Take a deep breath, be patient, and don't let any negativity ruin your baby photo session. These moments are important and priceless.
Accommodate for the age
Depending on the age of the baby you are photographing, certain challenges can be expected. For example, newborn infants are like rag dolls and must be held for any pose, while 18-month-old babies will be walking, exploring, and playing, and unless they are sleeping, in constant movement. The following list explains how babies generally behave and respond according to their age, as well as offers ideas for forming your approach:
* Zero to three months. Babies in this age range have no mobility or strength. Unless they're sleeping or in horizontal poses, they must be held for a photograph. They sleep a lot. Take some shots of the baby sleeping and being held by friends or family members, and don't forget those close-up pictures of fingers and toes. Anya is only six weeks old and needs to be held in order to take the photo, as shown in 8-5. Outside, in soft, open shade, I positioned her in the doorway and zoomed in close to capture her expressions and isolate her from the background, as shown in 8-6 and 8-7. This helped eliminate any surrounding distractions and you'd never know that she was being held.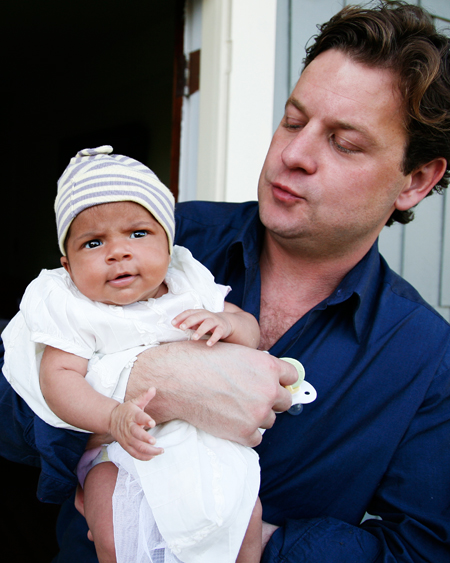 8.3
ABOUT THIS PHOTO This little baby needed to be held, but I was still able to capture some great shots. Taken at ISO 200, f/4.0, 1/200 sec. with a Canon EF 24-105mm f/4L IS lens.


8.4
ABOUT THIS PHOTO Zooming in to the frame with a telephoto lens helps eliminate any background distractions. Taken at ISO 200, f/4.0, 1/250 sec. with a Canon EF 24-105mm f/4L IS lens.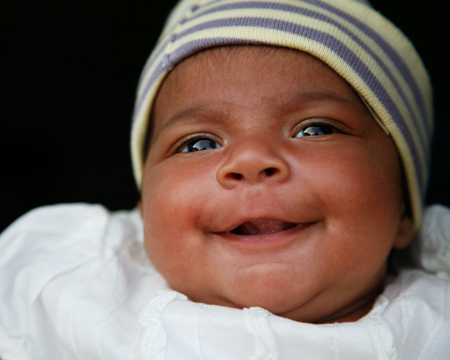 8.5
ABOUT THIS PHOTO Getting in close to the baby provides an intimate feel to the image. Taken at ISO 200, f/4.0, 1/250 sec. with a Canon EF 24-105mm f/4L IS lens.
* Three to six months. They can raise their heads and chests when they are put down on their tummies. Take shots of the baby lying on the floor, in a crib, or with a parent, or position the baby over a blanket mound or sofa cushion. Little three-month old Poppy is positioned on a furry blanket in a classic baby portrait pose in figure 8-6.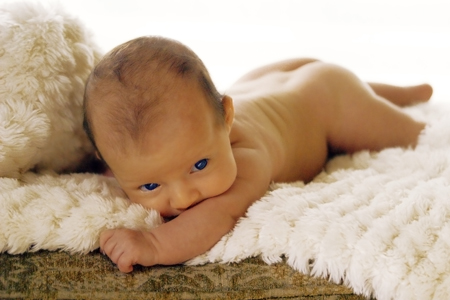 8.6
ABOUT THIS PHOTO Three-month-old Poppy was comfortable and happy when I positioned her on a warm blanket. Taken at ISO 400, f/4.0, 1/1000 sec. with a Canon EF 70-200mm f/2.8 lens.
* Six to nine months. Most babies are beginning to sit up on their own and can feed themselves with finger foods. You can creatively pose them, but prepare for movement at any time. Think about taking candid action shots when they are eating or playing. Six-month-old Amelia was sitting at a table, happily playing with her toys when I captured the candid moment shown in 8-7.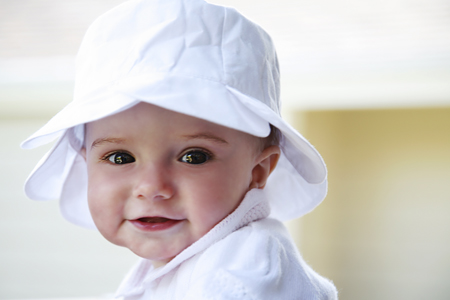 8.7
ABOUT THIS PHOTO By positioning myself at Amelia's level and remaining ready with the shutter button, I was able to capture a natural expression in this photograph. Taken at ISO 200, f/5.0, 1/100 sec. with a Canon EF 24-105mm f/4L IS lens.
* Nine to twelve months. Now they are reaching for toys, can pull themselves up, and may be beginning to walk. Capture a moment with a baby and his blanket or favorite stuffed animal. Figure 8-8 captures a playful moment between eleven-month-old Mia and
her dad.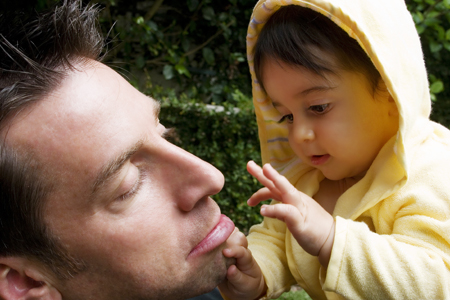 8.8
ABOUT THIS PHOTO I placed Mia on her dad's lap and took a lot of photographs when they began to play. Taken at ISO 400, f/11.0, 1/125 sec. with a Canon EF 17-35mm f/2.8 lens.
* Eighteen months. The baby is walking — get ready to follow the action! The world is a new and exciting place for babies and toddlers. Try to capture their interactions and fascination with the experience. Eighteen-month-old Natalie is full of wonderful expressions as she reacts to her mother's storytelling in figure 8-8.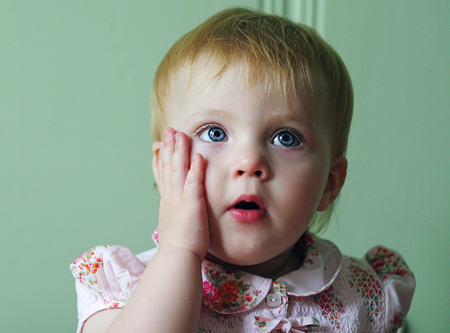 8.9
ABOUT THIS PHOTO Natalie was running around the house but stopped to listen to her mother's stories. Taken at ISO 400, f/4.0, 1/1000 sec. with a Canon EF 70-200mm f/2.8 lens.
KEEP IT SIMPLE
Less is more when taking beautiful baby portraits. Think Zen. Clean, calm environments with few people, minimal noise, and unobstructed backgrounds allow you to focus completely on the baby and produce quality images that everyone wants to see.

I hope the information from this excerpt has been helpful. Now it's time to get out there and take some pictures!
Click HERE to find out more about my new book Portrait and Candid Photography, 2nd Edition.
Copyright © 2012 by John Wiley & Sons, Inc.